I'm 44. Before August '12 I'd only ridden a motorbike once. This was a small kiddy bike at a fair in the middle of Chester racecourse, probably in 1979. Obviously I loved every microsecond of it.

The next time I got on a bike was as a pillion. Three close mates had Yamahas - a TZR250, an RD350, and a DT125. I went on the back of all three - quite regularly. Those first two were frantic machines, and would accelerate at a truly terrifying pace - especially the 350.



(note pillion pegs on swing arm!)

My dad didn't like bikes, however (because - although he loves mechanical stuff, and is a decent DIY mechanic - he had a friend that died in a motorbike crash in the '50s, or so the story had it). Also, I was often quite borassic throughout the '80s (and '90s!). For these and related reasons I never got into bikes. Cars became my main form of transport - after passing my test in '87.

I was given the keys to the family MKII Escort (a Miami blue 1.3L, reg # SBF 520 R) - a rite of passage for a lot of lads at that time. The one shown wasn't ours.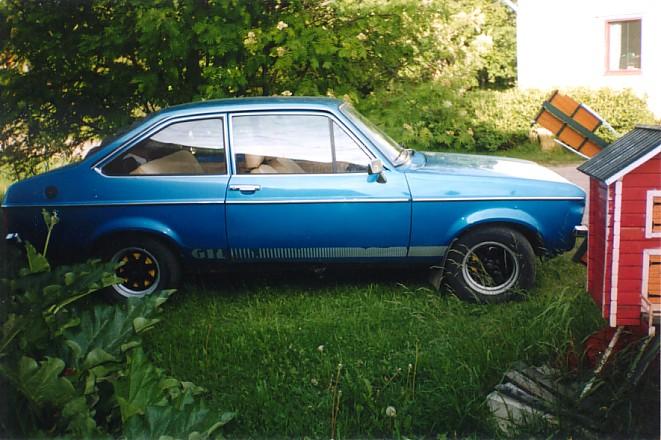 I bought my own Cordoba beige W reg MKII for £850 in '89. I was ripped - it was a shed. Sills and inner wings gone. Each of the five MOTs I put on it cost at least £250 in shoddy back-street welding. But it was the way of the world, back when cars rusted if you so much as breathed on 'em.




Around this time I had a girlfriend who lived in Cambridge - oh how interesting, you say. Ah yes but wait. Because she had an older brother, y'see. Let's call him Paul - after all, that

was

his name. He was into The Chameleons and other similarly obscure Peel bands, such as That Petrol Emotion (ex-Undertones) and various kinds of proto-goth shite like Rose of Avalanche. Anyway, he had a Fizzy, sut neglected behind the garden shed. Thing was, once the tarp was unfurled, it looked pretty damn good! So, one afternoon in ooh let's say the spring of 1988, my girlfriend decided she needed to be more mobile. Time to wheel the FS1E out and get busy with the Simoniz. But wait - hadn't we ought to bolt the engine on first?? Errm, actually *this* is the engine, said the GF, pointing with the toe of a small Doc Martin at a minuscule, finned casing. What could we do but gaze disconsolately at this diddy lump?

Needless to say the old Fizzy resisted all attempts at resuscitation. Despite being in relatively rude visual health, something was awry in the very guts of her. Which was a shame because this particular Yamaha was black - and was thus well-suited to my lissome GF's goth phase.

Now then - don't get all Mills and Boon on me. I can see that twinkle in your eye - seeking a love-interest angle to this tale of two motorised wheels. Not gonna happen - though we were pretty damn hot for each other, and had a few adventures in the years together.

The Yamaha still wouldn't start, though. We spannered, we scratched our faintly preposterous indie barnetts, and we lit an umpteenth Embassy Number 1. One funny thing about that bike - it actually had real pedals! Good god. Talk about cred killer. Also, in our bid to get 'er running I do remember very clearly syphoning a small amount of petrol from the tank via a length of tubing. Fuck me, I got a mouthful - and worse, swallowed some.




Now, if you've ever swigged some 4 star, you'll know what followed. Petrol belches - for hours. This was 15 years or more before the advent of the internet proper, don't forget. You couldn't just google "cure for fossil fuel burps" and come up with a list of solutions, two of which might prove mildly effective. Rather, you just had to man up and try not to get too bilious during fag breaks.

Suffice it to say the Fizzer never did start. At least not that day. But I do still have, somewhere, a picture of the ex astride it (

sans

lid, looking all gorgeous and sultry). She's on the road outside her mum and dad's small semi-detached bungalow in one of those homely little hamlets not too far from Huntingdon.

Now it just so happens that romantic assignations were also afoot the next time I rode a pair of motorised wheels. But this didn't happen in the home counties. It was, rather, a plane journey away - on the Greek island of Corfu. In 1994, a new girlfriend decided we needed a week in the sun (me and the goth chick had split up in '89). We thus booked a dirt cheap cancellation on the resort of Kavos. What a fucking dump. A single street edged by dusty verges upon which stick-thin cockerels scratched disconsolately, and which terminated in a maximum security Club 18-30 compound. After one night, during which Ace of Base's

All that She Wants

thundered incessantly, we got The Fuck out - and after a bus journey, fetched up at a small resort called Palaiokastritsa.

Three things stick in my mind from that time and place. First, swimming at the beach - lovely (even in late September!). Second, hiring a Vespa from Spiros's Scooters. Third, the 13th century monastery (more of which below!). The GF and I put some miles on that 50cc Vespa, and the roads around Palaio were pretty sweet. Steep cliff climbing lanes with lots of hair-pin bends, passing through tiny hamlets and eventually levelling out to reveal views of cobalt coves. As Beckett wrote in

Walking Out

in

More Pricks than Kicks

), '...the sky was Mary's cloak.' Indeed! And some of these cliff top lay-bys were very reminiscent of the place where Ray Harryhausen's grey, creaking skeleton's sprouted from the dust to battle the Argonauts.




Being a "twist-and-fuck-off" (to give them their technical name), that 50cc Vespa virtually rode itself. Although I'd looked longingly at the DT125s in Spiros's yard, I knew I'd not be permitted to rent one. Not only could I not even ride a geared bike, Spiros wouldn't have let me out on one. I did tentatively ask about the possibility of...but no. Sorry no.

And so me and the GF had to settle for the Vespa. It was old and beige and needed oil pouring in with the petrol. Two up, it could barely even be described as nippy. But it did run, and we wobbled over to Ipsos, then round to Kassiopo and on to Acharavi. It was slow going, but at least I managed to avoid binning it. I will quickly mention, however, this one particular occasion when we came hideously close to losing it.

There'd been a slight drizzle, after what had probably been weeks and weeks of heat - the road was shiny slick with dodgy moisture. We were about 5 minutes from Palaio, and passing through a strange stretch of lane bordered by a vertical embankment. Rows of kids sat there, looking down at us. What's all this about? I grew suspicious and as I bimbled closer I felt the Vespa's rear twitch. The kids' gazes grew ever more expectant. Ah yeah - ok, ok. I geddit. It clicked - this was something of an accident black-spot. Upon hearing the buzzy approach of a rental ped, these little lads had hurriedly congregated to spectate yet another ditching by an inexperienced, probably slightly inebriated, sun-stroked Brit.

Yeah well - firstly I wasn't pissed. Secondly, having put in many hundreds of miles of push-biking, I knew a shitty surface when I felt one. And in any case, my karma was reasonable. I didn't think riding this little Vespa was either big OR clever. Me and the GF were just having a bit of innocent and much-earned enjoyment. So yeah, soz guys - gonna have to disappoint you all this evening. The Vespa's little precursory twitch had given me sufficient warning. I throttled off and free-wheeled through the embanked part of the road and wound smoothly onwards - leaving them Greek lads to fart around dejectedly with their scratty tennis ball.

One final thing before we leave Greece - and scooters. Remember the monastery I mentioned - the one at Palaio? It's on a promontory overlooking the beach. One afternoon we Vespa'd up to it. Nobody was around - we walked cautiously into a chapel, and squinted around its gloomy interior. At that moment a small, aged priest appeared. He was suddenly upon us, babbling a weird glossolalia. Looking me squarely in the eye he reached at my crotch and gave my bollocks a quick tweak.

What the FUCK.

I yelped in horror. I said to the GF, I said, holy fucking shite the old fucker just grabbed my fucking balls!! But of course there was no need to tell her. She was standing right next to me and had seen the old nonce's every move - even though it had been swift, decisive and deadly accurate.

Nowadays we would of course expect nothing less from a man of the cloth. But back then it was something of a shock, to say the least. Was he insane? Was he out of his motherfucking mind? Or did he just want some ass. We shall never know.

The funny thing is I'd forgotten all about this perverse little interlude until sitting down to type up details of the second time I rode a bike. Okay, okay - moped. Scooter. Whatever. And now that I recount it in an unexpurgated form I do wonder if the then GF ever calls it to mind. What a strange and slightly ghastly little memory it makes. I do recall working it up into a relatable anecdote when I got back to Blighty. I was met with incredulity, however. And the more I insisted on the veracity of the episode, the less I was believed. Oh how times have changed, said he with an arched eye-brow and cheesily ironic tone.

Lessons learned? Several - but one stands out. No matter what level of biking you embark on - be it moped or BMW 1200 - you are more or less assured an adventure. No, I can't guarantee it will always be an entirely pleasant one. But you'll remember it. Oh yes.

But here we must leave the late '80s - wave with me as we say farewell to the loves of yesteryear, and the crappy mopeds that promised little and delivered less. Let us fast forward to a few months ago. Sometime late in 2012 my urge to ride a motorbike came out of deep hibernation, and I went on the internet and bought a Suzuki RV125 ('94 plate, 96 genuine miles on the clock, £1600). In other words, a Vanvan. Yes, a hairdresser's bike. A motorcycle for poseurs and metrosexuals.

But to my eye all I saw was a chunky little fucker that looked like bikes *used* to look. Which is to say, before designers made everything with two wheels and an engine over 250cc look like it was made out of Lego.

Naked bikes that can take some knocks - ride over tarmac, gravel or shitty lanes. That's what grabs my eye. Knobblies. Twin shocks. Spoked wheels. Stuff like that.

Also why is there no bikes below 500cc, apart from a few pretty fucking vanilla 125s? I swear that when I was growing up there was a whole plethora of bikes in different shapes and sizes, that could do all manner of jobs. Nowadays I honestly can't tell one bike from another. Mutter, mutter, grumble, groan.

But really - can we have some 250s? Why don't Triumph make one? Imagine that. A nifty little thrunch puppy that could blat up a country lane and crush a badger without flinching, then head up an A-road and make the NSL in a few seconds. Gimme.

I suppose what I really want is KTM or a DT125. But they've always been thraped half to death and there's no way I can afford a new one. The way I see it is, seeing as I pay between 5 and 7 grand for a pre-loathed Focus, I couldn't possibly justify half of that on a bike. Just doesn't seem right. So - with that in mind, my budget for bikes is always around the £1.5k mark. Preferably half that.

In an ideal world someone would pull up outside my house with a really low mileage TDR on a trailer and, noticing me tightening the Vanvan's chain, take pity on me and beg me to take their 250 off them on condition that I cherish it forever and never, never ride it in anguish. Whereupon I'd look them in the eye and snap their hand clean off.

The TDR - what a lovely bike that was. Don't think I've ever seen one. Kind of the first street fighter in some ways - a naked TZR, with a tough make-over. Kind of a supermotard thang. Kind of mint: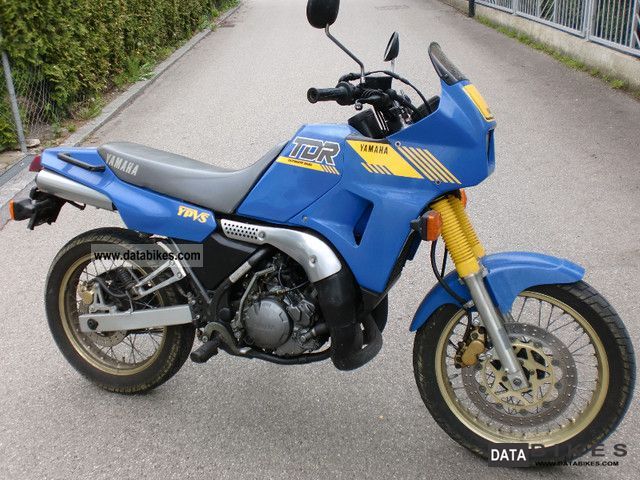 Looking back at the blood-links between these two Yamaha brothers - the TZ and the TDR - I wonder why there isn't something like it today. Okay, yeah - the 2T has long since been buried by emission laws. And the 250 has been killed (in the UK at least) by learner licensing. But still - mightn't the Ninja lend itself to a similar kind of make-over?




Different rake, higher (straighter) bars, lose some of that plastic. Mmm mm! Get naked!

Meanwhile, back in my dream garage, there would also be the now obligatory black (red and green) RD350 YPVS turbo nutter bastard. Because, although I myself have never made a particularly convincing hooligan, I'd still like to practice at the ignoble art. With Microns - must have Microns, of course.

But really - who am I kidding. An RD350 would scare me witless. I can't ride for toffee. All this get yer knee down shit flies way, way over my head. Despite trying, I still can't quite feel any need for speed. Maybe I'm a just a late developer. Perhaps, in a couple of years, I'll be bustin' for a 'busa.

A far more likely scenario would be meandering with a Muzzer. I.e. an MZ. Yeah - we're back to 250s - 2T 250s more pertinently. And/or what about a Cossack Vokshod - never mind those nasty but nice Nipponese nightmares, let's bimble with Brezhnev. Cheggit:

http://www.bikechatforums.com/viewtopic.php?t=258184

Oh yeah. That's the one. Gotta get me one o' them babes someday.

Quite why I'm not hot for velocity remains a mystery. I feel like the odd one out. True, it's no joy being the slowest thing on an A-road - looking in the mirror and seeing a convoy trailing behind). But that not withstanding I neither need nor want a bike that'll do more than the NSL. The prospect of many motorway miles holds no allure. I like the smaller, more scenic routes. But, above and beyond that, I think I'm just a bit chicken shit. Yep - speed scares me. And in my books danger is not equal to enjoyment. Back in my twenties, maybe. Although even then I wasn't that bothered. Nowadays though I tend to take it easy - what was that maxim I read on some bike forum or another, oh yeah:



Better to be 30 minutes late in this world than 30 years early in the next.



While we're on the topic of memorable bike-related catch-phrases, I might as well mention a couple of other memorables from down the years. These two both build on - i.e. improve - the old chestnut 'only a fool breaks the two second rule:'



Only a twat rides closer than that





Only a cunt hits the car in front



In any case, what impresses me as much if not more than speedy stuff is slow riding skills. I appreciate this won't do it for many members of BCF - but to my mind great poise and balance are something of a joy to behold. Here, click on this and watch as some dude cone weaves like no other on a GS500:

http://www.youtube.com/watch?v=m9bm_YfqSSU&list=FLmPiMO2eu2fclpTXLkIc3eQ&index=3


Predictably, the contents of my dream garage do change a fair bit. One bike that comes and goes is the Royal Enfield trials:




Not too sure about the seat, but everything else yells RIDE ME!! Those tyres especially. However, and as you'll know far better than I do, these Indian-made Enfields are - how to put this - an enthusiast's machine. If you're not a frequent fettler, and a proficient one at that, you may find yourself 25 miles from home. Cold, alone and pushing a brutishly unyielding bike.

Or so I'm told. I do plan to find out the hard way. But not yet. No - DIY fitted Amal carbs and right foot shifting are treats for the future, when I've gained some spanner time. Where some = a lot.

They are relatively affordable, unlike my next nomination - CCM's FT35S. Powered by the Suzuki DR-Z400 it is, like the Enfield, a good ol' thumper. But look at it - with its grass-track styling and that bear tank. Man - come ON. Doesn't it look

mean

??




What's that? You want MORE mean? I don't know what to say. I had honestly assumed the level of meanness embodied by the CCM would've pacified your otherwise insatiable urge for bestial bikes - bikes that look as though they want to tear up your lawn and shoot six foot flames from their exhausts, melting your tired little face like a crisp packet held over a lit Zippo. Which is why I felt compelled to include the following machine in this, my increasingly well-stocked virtual dream garage: